Leaders at Newington
Leadership is not something that can be taught explicitly. It is something that is modelled and mentored from a very early age at Newington. Leadership is about knowing when to step up, and stand up for what you believe in, even when it may be uncomfortable or unpopular amongst your peers. It deepens the conversation about citizenship, social responsibility and community-mindedness. At Newington we support the students in their search for a style of personal leadership that also encourages trust and respect through various opportunities.
Leading is challenging. It requires doing what is right, not what is popular. Newington Leaders are expected to do the right thing, particularly when no one is watching. Keeping the well-known maxim 'what you walk past, you choose to accept' is a guide that all leaders aspire to. By extension, we want our leaders to be upstanders and not bystanders, even if their closest friends are involved.
Our Leadership Program starts a lifelong conversation about citizenship, social responsibility and community-mindedness and is guided by the Good Newington Citizen Statement.
Leadership in the Senior Years
At Newington we support students in their search for a style of personal leadership that encourages trust and respect.
In Year 10, students are involved in activities through our Service Learning program and engage in leadership opportunities with the younger cohorts. They undergo specific training towards the end of the year to prepare themfor the next stage of their leadership development in Year 11.
In Year 11, students are trained and then selected to take on the role of Peer Support Leader. This is an important role as it fosters early relationships between senior and junior students and gives Year 11 students the opportunity to practice and hone their leadership skills. Adjacent to this, all Year 11 students build on their earlier leadership training and roles and formally prepare to take over from the current senior student leaders as acting House Prefects.
After five years in high school we believe that all our students are leaders in their own right. For this reason, at the end of Year 11 all students are automatically made House Prefects. Under this system, all Year 12 students are required to contribute to the daily operation of the school through House Prefect duties and to set an example for others to follow.
From the Year 12 student body, one student is chosen to lead the school as Senior Prefect, acting as a dynamic exemplar for the whole school to look to and emulate. Two Deputy Senior Prefects are also appointed as well as one Captain and one Vice Captain for each of the College's 16 Houses. Together, these students form the exceptional team that guides and unites the school's student body.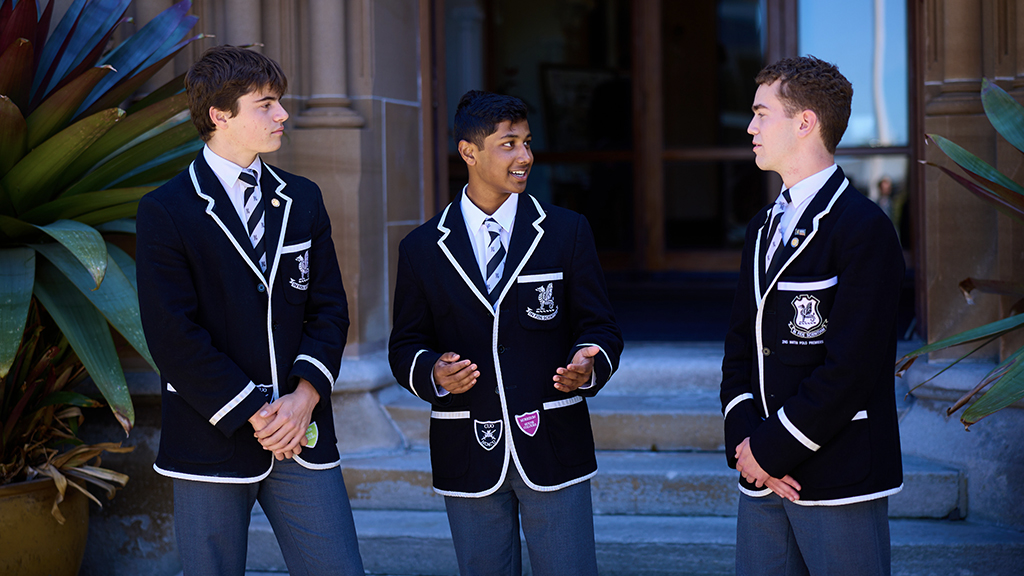 Senior Prefect Leaders 2024
Avanesh Sri Ganeshwaran (Senior Prefect), Henry Windeyer and Macauley Campbell (Deputy Senior Prefects) are the student leaders for 2024. Their motto is "Diverse in Thought, United in Action."
Diverse in Thought, United in Action
Your Newington motto for 2024 is "Diverse in Thought, United in Action."
There are two main aspects of the motto, both of which are connected through their significance within the school. It is a motto that stands to define the values that embody Newington, and something which we will look to work upon in the year ahead.
Diverse in Thought
Being diverse in thought is the foundation on which this school prospers on. It is the notion that our personal ideas and our uniqueness is what leads to our success. There are countless examples of the individual successes we have seen within the school over the last year over such a broad range of activities, and we know there will be many more in the year ahead.
Newington is a place in which every single one of you can embrace who you are and truly become who you aspire to be. Your individuality is what underpins this school, and it is fundamental in shaping positive change within the school environment. With so many brilliant ideas, thoughts, and perspectives, we are ready to drive change going into the future. Within our diverse community of individuals, each with different pursuits, we seek to celebrate individuality; because that is the thing that makes you different and inspires change within our community.
Newington is a place in which every single one of you is individually able to create lasting change within the school, but also the community in general.
United in Action
However, whilst the first part of the motto is central to the school's foundation, the second holds much greater significance within our Newington community. Newington, United in Action, is a school where many unique individuals come together as a community to reach a common goal. Through our many differences, we bring individuals side by side, united by the common ethos driven by community and togetherness. Whilst our individual paths may differ in many intricate ways, our shared experience of being a part of the black and white is a journey like no other.
Beyond our diversity, unity is what holds this school together. It is central to our growth, and it is fundamental we accept the challenge of maintaining this solidarity together. So, whether it's when you're training with your mates on a Wednesday afternoon or practicing in a rehearsal early on a Tuesday morning, know that you are sharing this experience with so many others and truly embrace this attitude.
To actually drive change within the school it is vital that we come together and support each other as one community. We stand United in Action. This is how we can action success and lead to progressive change at Newington, but in broader society as well.
The year ahead will be filled with many moments for every single one of you to embrace this school and its opportunities, truly becoming a part of the school culture at Newington. For some of you, it may be joining a new co-curricular like sustainability or debating, for others, it's turning up and supporting your friends at their sporting games on the weekend, and for some, it may just be being with your mates at Newington creating memories which last with you forever. So, look forward to the future, embrace each other's individual successes, but above all else remember to come together wearing Black and White and create a community united in action.
Leading from a young age
In Years K-6 at Wyvern and Lindfield, there are opportunities to participate in leadership at every age and stage – inside and out of the classroom.
Year 6 have monitors roles to assist across the school and all students have the opportunity to serve on the Student Representative Council (SRC) for each campus, which is made up of students from Years 1-6. The SRC represents the student body and helps organise ways to participate in and contribute to their school community.
The SRC encourages all students to contribute to and share in the decision making process within the school. Not only does the SRC encourage active citizenship, it also provides older students with useful leadership opportunities where they can practice mentoring their younger peers.
Foster a vision and sense of purpose in a friendly environment
Provide all students with an opportunity to set and achieve collective goals
Promote active, reflective listening skills
Apply learning in a context that directly affects the school community
Promote Social Justice values